What are Decal Commissions?
AV Figures is pleased to offer custom decal design services to the community! We've done custom commissions in the past and are excited to offer a more streamlined and systemized way to have your dream clone trooper be brought to life through our incredible decal designs.
The way these commissions work is by submitting an application to have your idea, design, or concept turned into a physical product. We will accept applications from February 22nd til February 28th, and will review them all on March 1st. As much as we'd like to accept everyone's applications, we will only have the capacity to accept a total of up to 50 designs.
We will send you a follow up email between March 1st-5th detailing your next steps if your application has been approved or denied.
Please review the details below before submitting your application. All the details of the scope of work our team will handle for you are written there.
There are multiple steps in the process of getting your designs made. Please note that we handle the design and production of your decals or cloth that you request, but will not be applying your decals to figures. Please reach out to our community members in the #buying channel on our Discord server if you are in need of someone to apply the decals for you!
Step 1: Application
The link at the bottom of this page will direct you to a form to submit your application. We will accept applications for a short period of time, and review them one by one at the end of the application period. Within a few days after you the application period closes, you will get an email from our team that will let you know if your application was denied or approved.
We can only design decals and cloth on our current templates, and cannot offer commissions on our older templates or create templates from scratch.
We can also offer cloth designs as well.
Each approved customer can have up to four designs made.
Providing excellent reference material, such as concept art and/or detailed descriptions of your job, may increase your chances of approval.
Ordering in larger quantities may also increase your chances of approval.
Making multiple applications of the same design request will not increase your chances of approval.
None of these will guarantee your application's approval or denial.
If your application is denied, unfortunately we will be unable to fulfill your commission at this time. You are more than welcome to resubmit the same design when we reopen commissions again!
If your application is approved, your commission will move onto Step 2.
Step 2: Approval
Once approved, we will contact you to finalize the details of your request. We will discuss your quantities, desired exclusivity, and details about your desired decals.
Step 2.5: Exclusivity
If you would like your design to be exclusive to you, meaning that we will sell it to no one else EXCEPT for you, we will charge an exclusivity fee per design you wish to remain exclusive to you. This is a one time fee that is dependent on the quantity of the decal sets you plan to purchase in the initial invoice of the decal you wish to be exclusive. The pricing of the exclusivity fee is detailed in the Pricing Structures section.
Exclusivity must be decided at the time of the initial invoice. Once we process your initial invoice, we will not be able to change the exclusivity status of any design.
Should you decide that you do not wish to make your design exclusive to you, you agree to allow us to produce the design for public sale on our website.
Step 3: Invoicing
Once we have finalized the discussions of the scope of your project, we will send you an invoice. Our goal is to have your design shipped out by April 9th. Should you request revisions, but please note that revision requests may delay the shipment date. This invoice will include the following charges:
Design Fee - Mandatory
Cloth Production Fee - Optional for eligible orders
Exclusivity Fee - Optional
Material Fee - Mandatory
Shipping Fee - Free for eligible orders
Additional Revision Fee - Optional
Please note that there is a minimum of 6 total decal sets that must be purchased to utilize our custom design service. You can mix and match quantities of different designs to total to 6 or more decal sets if you have multiple designs being made.
Step 4: Design
Your design will be assigned to one of our talented Figutechs after your invoice is paid. Your Figutech will contact you via email to discuss your commission and will remain in contact with you throughout the design process. The Figutechs can only discuss the details of your commission through the designated email address they contact you from, so please do not attempt to contact your Figutech regarding your commission through other channels of communication.
Step 4.5: Rough Draft Submission & Revisions
The Figutech responsible for your design will send you a rough draft of the design by April 2nd. If you approve of the way it looks, we will proceed to shipment. Note that once you approve of the design, it cannot be changed any further.
If you feel that some changes are needed, your design fee covers up to two minor revisions to your file. We are unable to make drastic changes to the design without added an extra design fee, which can vary based on what you are requesting. Revisions are considered to be desired changes you want to make after the initial invoice has been paid. Each requested revision can add up to 5 business days to the projected shipment date.
If you are still dissatisfied with the design after both of your included revisions are expended, you can purchase further revisions as per the Pricing Structure section.
Step 5: Fulfillment
Once you have approved of your design, it will be given a special ID number. We will inform you what the ID number via email. From there, we will ship your decals and this will conclude the commission process!
Should you wish to order more of your design in the future, please contact support@avfigures.com and let them know you would like to purchase more of your design. Make sure to provide them with the ID number given to your design so they can properly create your order. Please note that the minimum order quantity of 6 decal sets still applies to custom orders being placed.
Throughout the project, there will be a number of potential charges that will be added to your invoice.
Design Fees
Decal design submissions are placed into various tier levels (1-5) based on the complexity of the design requested. Simple designs, like 501st Troopers, would classify as a Tier 1 design; complex designs, like Commander Trauma, would classify as a Tier 5. Design Fees are charged according to the tier your design classifies under, which is determined by our design team.
Tier 1 - $40
Tier 2 - $50
Tier 3 - $60
Tier 4 - $70
Tier 5 - $80
If you wish for cloth to be designed, the prices of these are determined on a case-to-case basis and can range anywhere from $20 to $50.
Cloth Production Fees
Because cloth is more expensive and time-consuming to manufacture than decals, there is a production fee of $5 per design for orders of less than 20 total cloth sets. If you order more than 20 sets of custom cloth, we will waive the production fee and you will only be charged the material fee.
Exclusivity Fees
The pricing structure for exclusivity fees are as follows:
1-10 qty: $80
11-20 qty: $60
21-30 qty: $40
31-40 qty: $20
41+ qty: $10
Keep in mind that exclusivity fees are unique per design. For instance, if you purchased 30x qty of one design and 20x qty of another and want exclusivity for both, you will be charged $40 and $60 for their respective exclusivity fees.
Material Fees
Like any decal set, your custom decal sets will cost $1.97 per set. We can offer a 25% discount to a particular design if you order 50 qty or more of that design.
Custom cloth material fees are the same as their corresponding cloth design on our site. For instance, if you wanted to purchase a custom ARC Trooper cloth set, you will be charged $4 per set on top of the Design Fee.
Shipping Fees
Shipping charges are the same as they would be for any other order: $5 to the US, and various pricing determined at checkout for international addresses. Orders that total to over $49 qualify for free shipping in the US.
Additional Revision Fees
Two (2) minor revisions are included in your design fee. If you wish for further changes after the two revisions are expended, an additional $10 revision fee is added to your invoice. This must be paid before the revisions are made.
AV Figures:
-Reserves the right to refuse service to anyone
-Reserves the right to cancel and refund an order for any reason
-Will not use your submitted designs for commercial purposes unless your application is approved
-Will not produce designs created by another artist without their express permission to do so
-Agrees to maintain respectful and professional communications with the customer
The Customer:
-Agrees to all the above terms and prices
-Will only be contacted regarding their commission via designated email channels
-Agrees to maintain respectful and professional communications with the designer
Examples of our custom work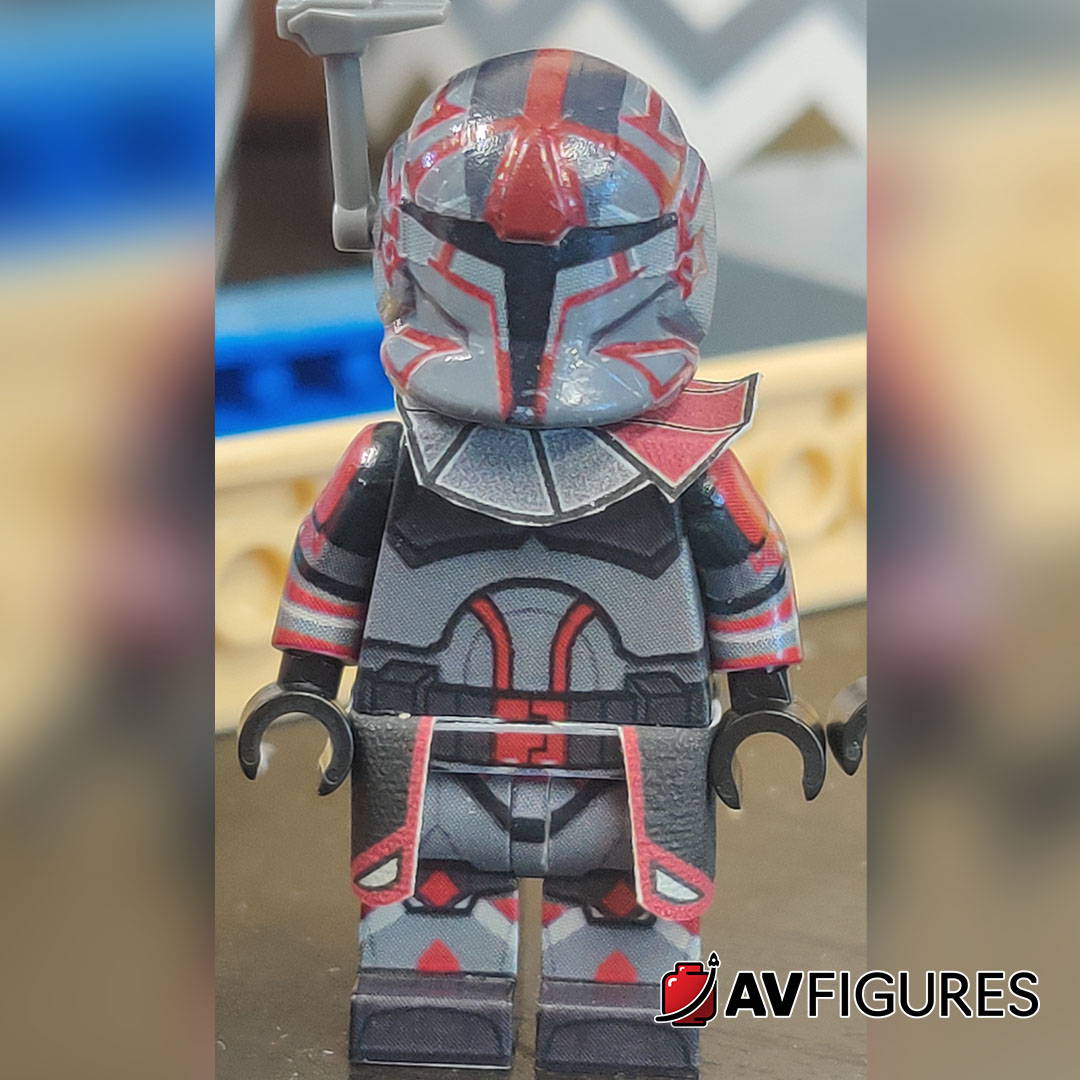 Vulcrov, a design for Riley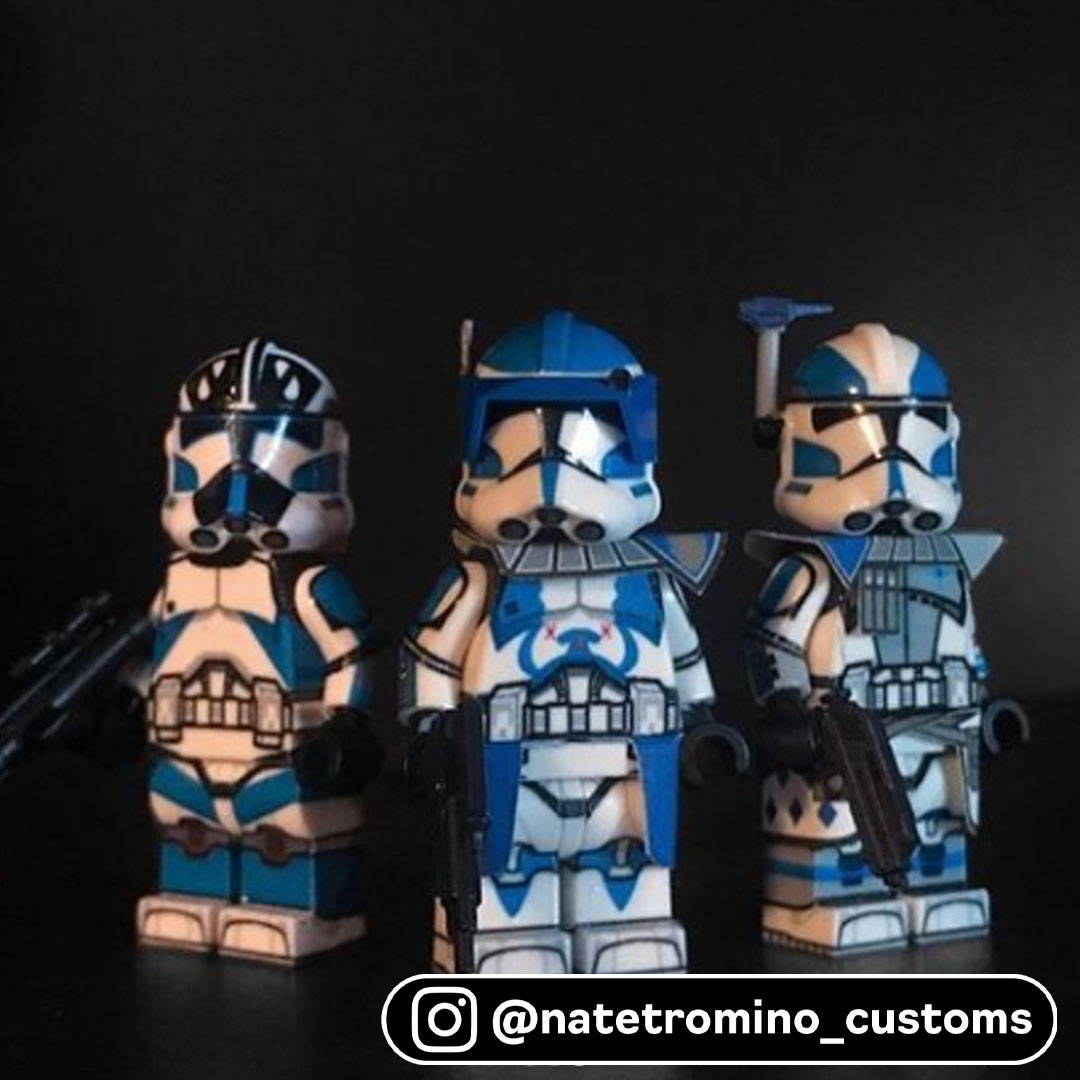 Domino Squad "What-if" for Will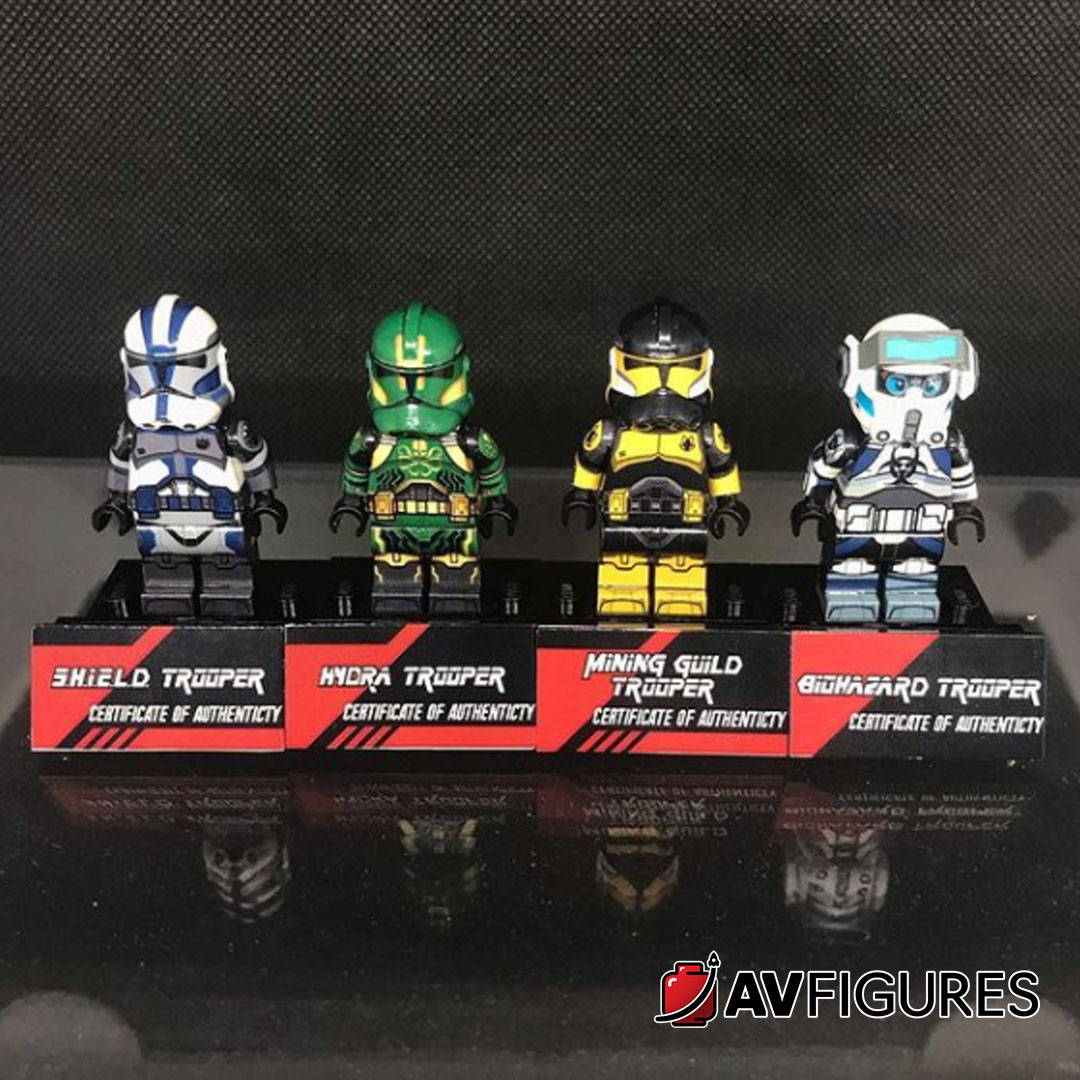 Custom Troopers for Wuhan Industry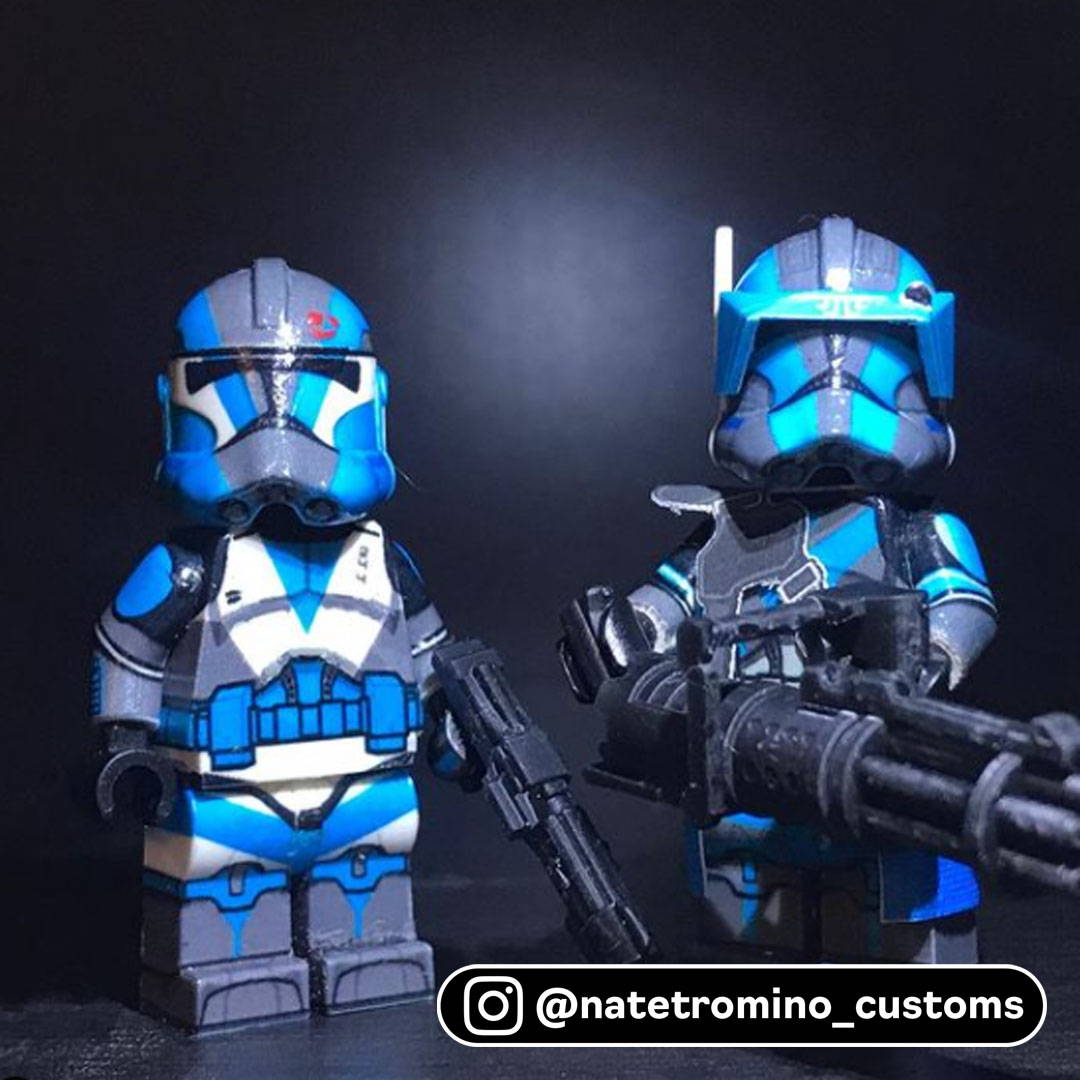 Nate's custom 244th Legion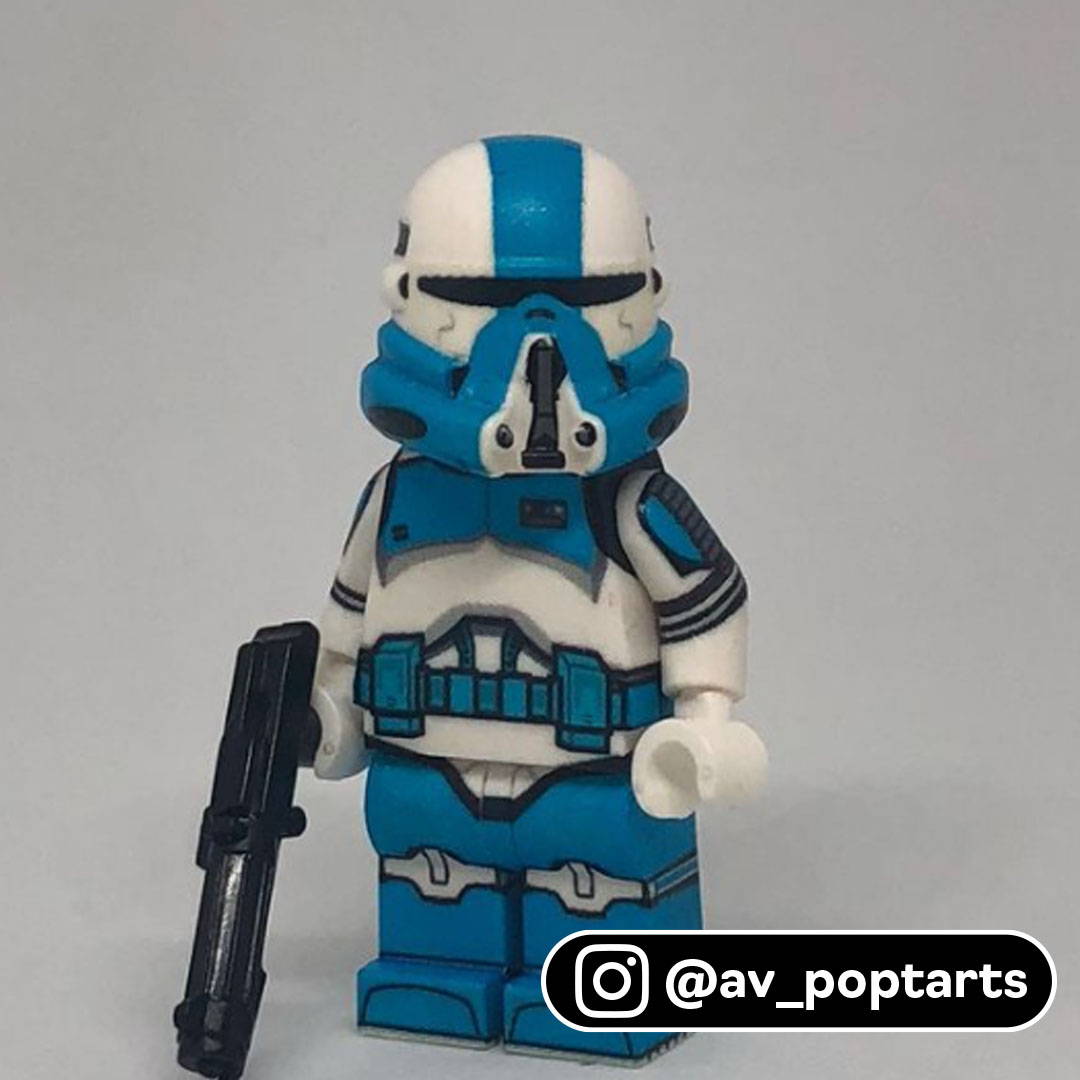 A custom airborne trooper for Nate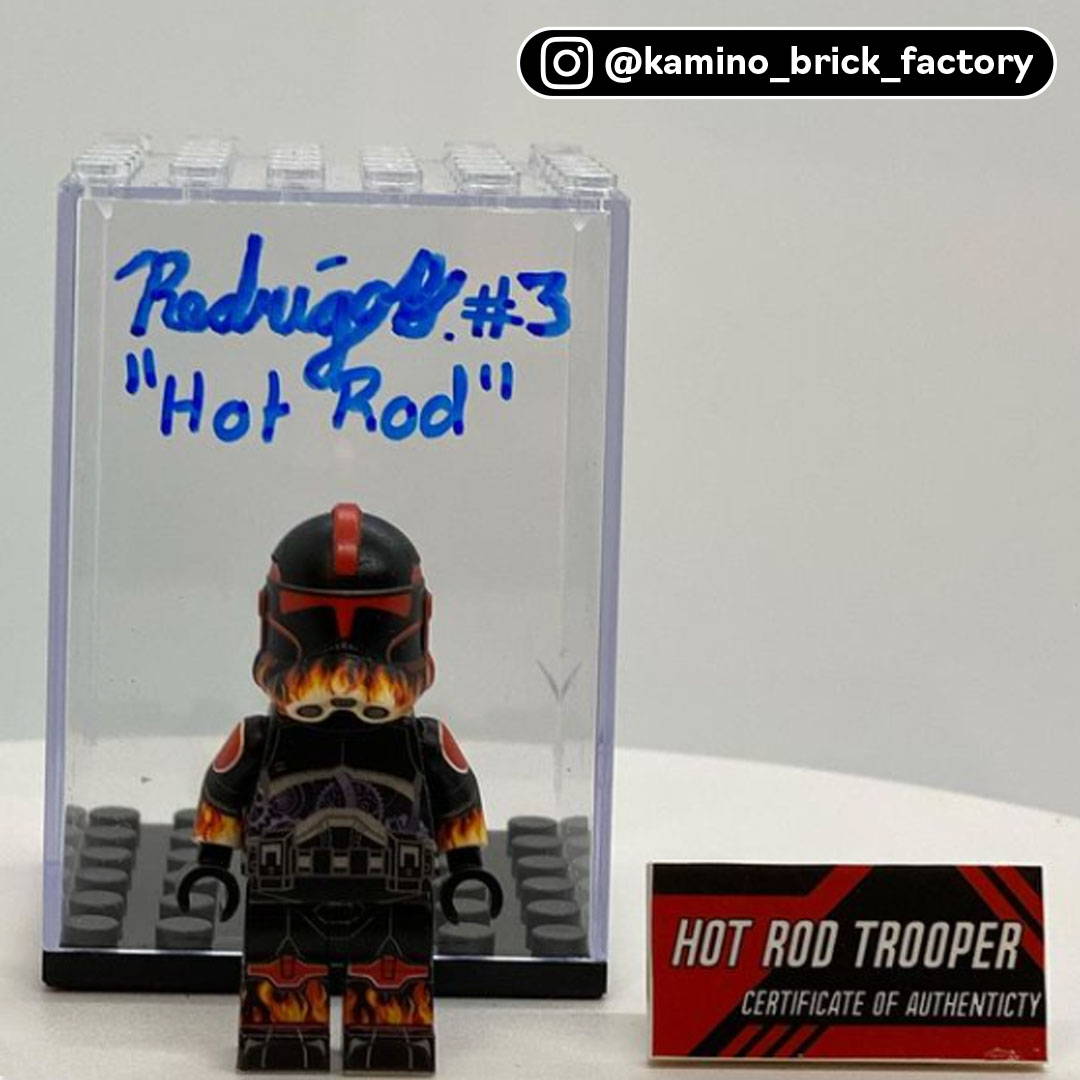 "Hot Rod" Trooper for Rod The Kicker
Custom Design Commissions are currently closed! We will announce when they reopen!